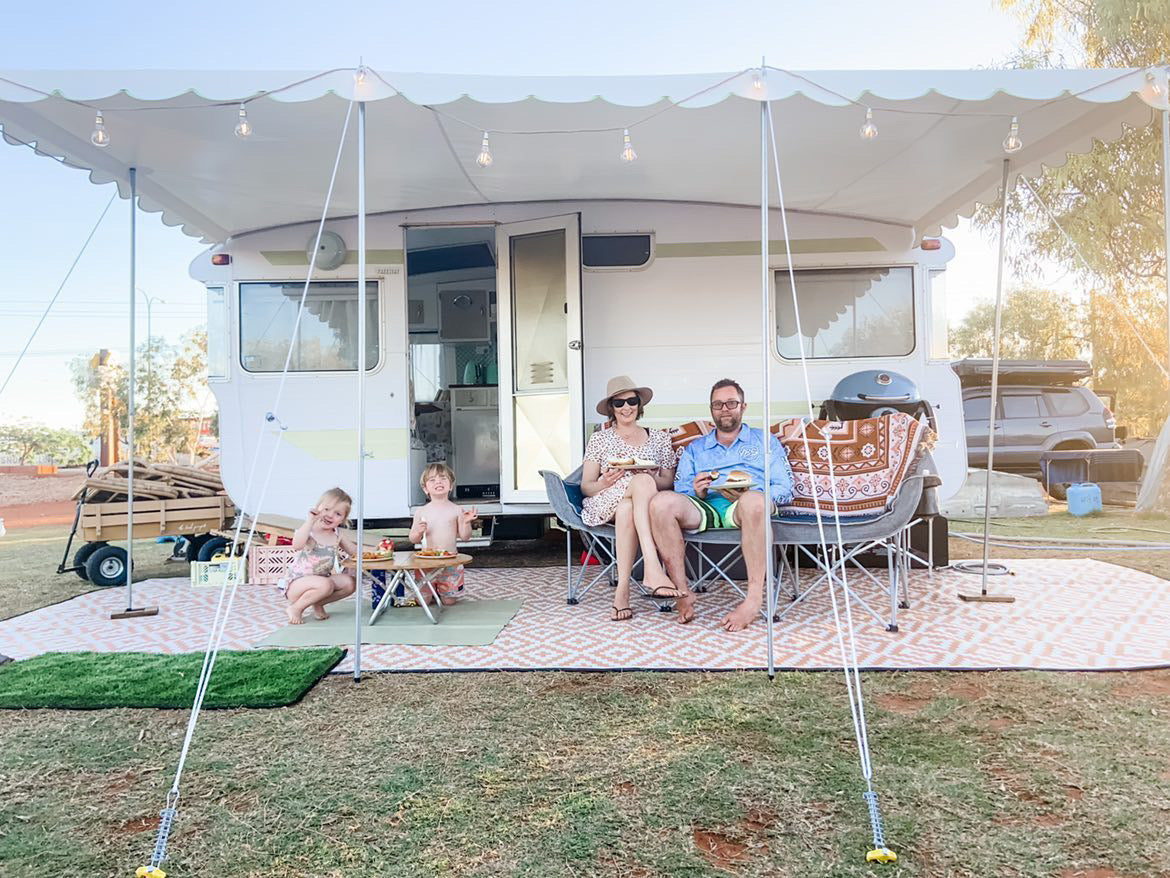 Despite the school holidays being safely behind us, I can't help but miss the sense of flow and downtime it brought with it. 
We know many families made the most of the holidays to dust off the camping equipment and stock the van to hit the frog and toad.
There are a million "must-have" items and fancy gadgets that are supposed to make life easier on the road, but really, let's face it, it just ends up being another thing to pack and overwhelm (insert eye roll 🙄😅).
With most people choosing to travel during the school holidays and the caravan and camping industry exploding exponentially in recent years, it's essential to be as organised as possible. 
muk mat is passionate about keeping things as simple as possible and we believe van life shouldn't be so much about the 'van' as it is about exploring outside the van and enjoying our vast landscape.
But how do you get back to basics and ensure the kids are entertained so you can get some much-needed downtime?
That's where we come in! We have compiled a simple list of 5 things to help you make the most of your time away without the kids screaming, "I'm bored!" "I'm hungry" 24/7! This list is jam-packed with great insight from some of the most seasoned travellers! YOU! Our incredible muk mat community.
So without further ado! Let's get started!
Number One
Top of the list (let's just get this over with!) is a muk mat! No brainer!😂
Kids = mess! You have to keep the muk at bay and cleaning to a minimum while camping or caravanning. Let the muk mat do the work by collecting the muk BEFORE it makes its way inside.
As an added bonus, keep your muk mat handy and use it before you get in the car or walk in the door at home. It's a multipurpose product which means you get bang for your buck all year round, not just on the road. You can check them out here.
Number Two
Choose a family-friendly location. Parks with activities, pools, waterslides and safe internal roads are essential. Then, while the kids safely go off and explore, you can get some serious peace and quiet, letting them burn themselves out with early nights to bed.
Number Three
Be armed with activities that encourage your littles to get out and about. Kids live such a sedentary lifestyle these days, with devices and screen time blowing out. Ensuring you are well-equipped to entice them to explore will expand their opportunities to learn and connect.
Besides scooters, bikes, helmets, and boogie/surfboards, make sure you head to Adventure Awaits for some of the best activities around.
Some of our favourites include:
Sand Pal - Sand Castle Builders Kit
This will keep them entertained for hours and is perfect for the budding engineer!
Record every part of your journey and keep the kids busy on those rainy days.
While they are recording their trip, get them to grab a marker and trace along the roads you've travelled with the Map of Australia Stickers. These stickers are perfect for inside or out and make a great keepsake. 
And don't forget card games like UNO, teaching the kids to play solitaire and other travel-sized games.
Number Four
Download ahead of time kid-appropriate podcasts such as The Short and Curly Series or But Why? A podcast for curious kids. You can also get audiobooks of their favourite authors, like JK Rowling or David Williams. This will keep them entertained on long car rides and when they need quiet time on their own. Downloading ahead of time will save any issues with wifi.
Number Five
Fuel them right.
With all that sun, fresh air and activities, little ones will need to refuel on the run and properly arm themselves for another jam-packed day ahead.
Often, what we think is quick and easy can lead us straight to sugar highs and tantrums, so a bit of preplanning can go a long way to ensure your littles are rested and calm.
We are all about supporting local tourism and stopping in at the local, but sometimes a hearty home-cooked meal is what you need!
Soup and bolognaise is a great one to pack. Storing in double zip lock bags and freezing flat allows you to maximise storage space in your freezer.
A trip into town to the local grocer and filling up on lots of fresh fruit and vegetables is a must for quick snack grabs as well as a good walking adventure to get away when you need.
And because we are all about simplicity, here are two recipes that we know the kids (and you) will love. So prepare ahead, slice, wrap and freeze for delicious, nutritious snacks to fuel your kid's learning and play, giving them the energy and brainpower for a fun-filled day ahead!
Banana Muffins
Ingredients
3 very ripe bananas, mashed (I usually use medium-large sized ones) 
½ cup coconut oil, melted
2 eggs lightly beaten
1/2 cup greek yogurt
2 teaspoons vanilla extract 
1/2 cup brown sugar 
1/2 cup monk fruit sweetener (or other)
1 cup plain flour (sifted)
1/2 cup almond meal
1 teaspoon baking soda 
1/2 teaspoon salt 
1 teaspoon cinnamon
Directions
Preheat oven to 180 degrees. Line a muffin pan with patty cases. (makes up to 15)
In a large bowl, place mashed banana and coconut oil and sugar. Add the eggs and vanilla and mix well.
Add in the almond meal and sifted flour, baking soda, cinnamon and salt over the wet ingredients and stir to mix until just combined. 
Pour batter into prepared pans and bake 20 minutes or until golden brown and a skewer inserted into the centre comes out clean. Cool and freeze in a container.
Note
You can substitute the almond meal for flour or coconut and add in other ingredients such as choc chips or dried fruit. 
Muesli Bars
Ingredients
1/3 cup tahini
1/2 cup coconut oil
1/2 cup honey
3 cups rolled oats
1/4 cup sesame seeds
1/4 cup sunflower seeds
1/4 cup pumpkin seeds (pepitas)
1/4 cup coconut
1/2 cup dried cranberries (or any dried fruit of choice)
1/2 cup cacao nibs or choc chips
Directions
Preheat oven to 160 degrees and line a slice tray with baking paper.
Add tahini, coconut oil and honey to a pan and stir over low heat until melted and combined. Set aside.
Add all the dry ingredients to a bowl and pour over the honey mixture.
Mix well until all combined and pour into prepared tin pressing well into the corners for a smooth finish.
Bake for 30mins until golden, being careful to watch should it need rotating.
Once cooked, remove from over and cut into desired pieces and leave to cool. I find pressing the slice after cutting brings together any crumbs that may form and creates a beautiful tight slice.
Once cool, break off the pieces and store in the fridge.
Freezes well.
Big thanks to @thetrendytravellerwa for helping us out with the gorgeous header image.  Make sure you check them out on instagram!
Images supplied by @thetrendytravellerwa featuring muk mats and @recycledmats
---