"I think I want to buy a caravan."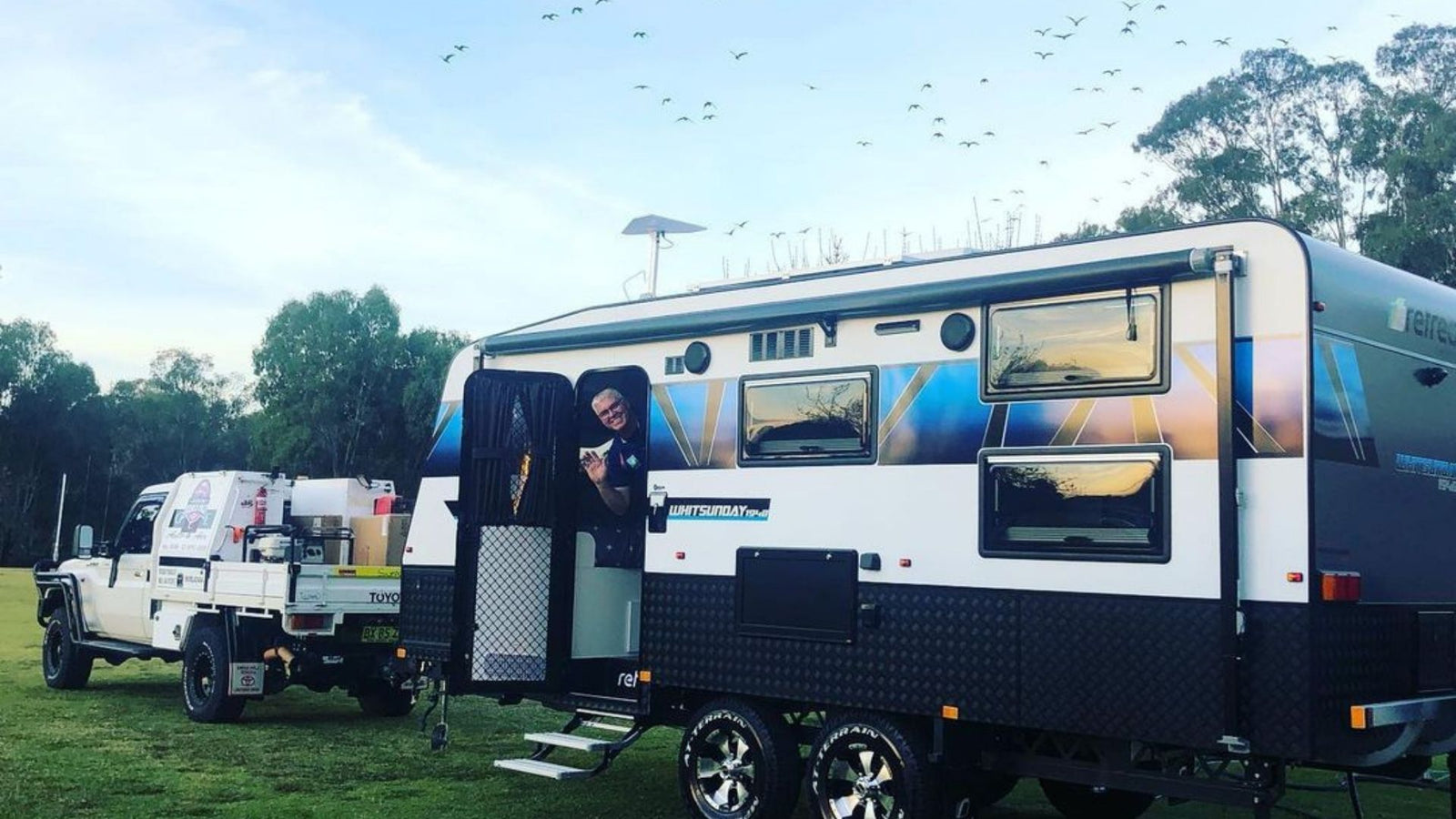 The words were said casually by my husband but my ears pricked and I experienced a small, internal, hopefully well-hidden eye roll.
Without much thought I quickly reminded the light of my life that we already had a roof top tent, a slew of swags, a side canopy tent and a camper trailer. All of those items were in storage. Husband – let's call him Jason – ticked off all his well-planned arguments; as empty nesters we had time to get away (I scoffed. Out loud. Probably rudely.), he could use it when travelling the outback for work, and we had a trip to the iconic Big Red Bash already planned.
I love the idea of road-tripping but argued that motels were everywhere. I remember walking away, not really interested, assuming it was a passing fancy.
It was not.
Jason researched, joined online forums, made calls and searched second hand dealers. He set himself a budget, and accrued a wish list. He knew he wanted a dual axel van, non pop-top, with a bathroom and door at the front. Most importantly he wanted no brown interior. At all. Fake wood panelling would be a deal breaker.
After Big Red Bash at Birdsville was postponed in 2020, the June 2021 approached, and despite his best efforts (and a rapidly rising budget limit) he had not been able to find exactly what he wanted, so we decided to hire a van instead. What followed this was a frustrating series of enquiries, where dealers told us either they had stopped hiring vans, they did not allow off road travel or COVID-19 border closures locked us out. We finally secured one in Dubbo, more than five hours travel away from our home in Hay, NSW.
Of course, once booked and the deposit paid, the Universe delivered an ad to Jason's Facebook feed, from the Wagga Caravan Centre, for a large second-hand van.
We headed off for a drive; I went along just for the excuse to get away somewhere (COVID really got to us all, didn't it?) and I still had a vague aim of talking him out of this scarily large purchase. We checked out the van, but it just didn't quite seem right. It had the fancy expandable bedroom and flashy large screen TV's but it was just on the cusp of needing work; the cracks in laminate and panelling were fine, but they were there.
I wandered around the outdoor lot, and slowly – despite my resistance – I started to picture us waking up beside lakes, rivers, mountains and bushlands. I started to imagine planning road trips across Australia, to wonderous places we'd only ever seen on TV. I started to think about no stress travel; no deadlines, no fixed itinerary, no rushing to board a crowded plane.
We wandered inside the centre, to where the brand spanking new vans sat in all their glory, gleaming and just begging me to step inside. We wandered around until we were drawn to a Retreat van, that ticked every one of Jason's wish list wants. I am a stubborn cynic at heart, but straight away I loved that 19-foot home on wheels. It had plenty of room for us, and was intoxicating in its newness, and, despite the eye-watering budget blow out, we were sold. Literally.
We left the van centre having paid the deposit on the spot, but with a delivery date in the far future – apparently so many people were just like us, making spur-of-the-moment purchases, that stocks were running low and the guys needed the van for upcoming camping shows.
In the months between that visit and our next, for delivery day, I shopped for the caravan I swore I didn't want. Into online shopping carts went Muk Mats and collapsible silicone storage containers, collapsible clotheslines and colour co-ordinating melamine plates and bowls, and my local hardware store's camping section became a place to browse as I dreamed about hitting the road.
I am yet to live it down. Daily, on our maiden trip to Birdsville, my husband cheerfully reminded me that this was all his idea. He is still happy to remind me how against that this van shaped slice of escapism I was.
Lucky there are bunks in the van. If he keeps the banter up, one of us might spend then next holiday in there.
Credit:
Insta - @kristaschadewriter
FB - Krista Schade - Writer
Website – www.kristaschade.com.au
---